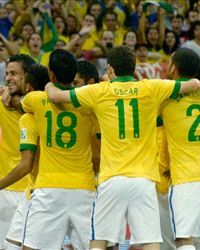 Brazil captured their third straight Confederations Cup title in emphatic fashion, brushing aside Spain 3-0 in the final on Sunday.

The tournament hosts were in supreme form inside a raucous Maracana, ripping the reigning world and European champions to shreds to end their 29-match unbeaten run, and claim the trophy for the fourth time, alongside their triumphs of 2009, 2005 and 1997.

Fred needed only 90 seconds to open the scoring, before a thumping second from Neymar moments before the break rounded off an excellent Brazil first half.

The onslaught continued two minutes after the restart when Fred put another past a shellshocked Spain, who showed their ineptitude at both ends when Sergio Ramos lashed a penalty off target.

Gerard Pique's 68th minute red card ended any fleeting hopes of a comeback from la Roja, as Brazil's win sparked wild celebrations in the stands, which will doubtless be outdone should the Selecao emerge victorious when the World Cup comes to these shores next summer.